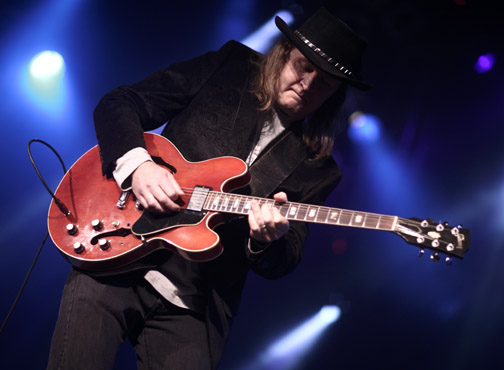 Rick plays a vintage Fender or a Gibson Lucille guitar autographed to him by B.B. King.
Rick has shared the stage with B.B. King, Gregg Allman, John Mayall ,Les Dudek & Savoy Brown on several occasions and with
Robben Ford, Etta James, The Yardbirds, Janiva Magness, Chris Duarte, J.J. Cale, Debbie Davies, Delbert McClinton,
Robby Kreiger, Coco Montoya, Pat Travers, Peter Wolfe, William Clark, Rod Piazza, Guitar Shorty, Eric Sardinas,Tinsley Ellis & Joe Houston.
BB Kings Blues Club "Hollywood CA." 1999 to 2003.
House of Blues "Las Vegas NV." 2011 to present.
Boulder Station Casino Las Vegas NV. 2011 to present.


Won't Be Long

Rick Berthod and the Persuader Band

" This is without a doubt one of the West Coast's PREMIER bands"

Live in San Francisco

With seven releases to his credit, and previously signed with Triton and Blue Tone Records, Rick Berthod continues to receive airplay all over the USA and Europe.

Red Handed

The latest CDs "Won't be Long" & "Live in San Francisco" is selling well around the globe.

One More Chance

He has been touring the US, Canada, and Europe for over a decade and has gained a reputation as a soulful, yet intense performer on festival stages as well as in clubs in major cities everywhere.

Turnin' Blue

"Rick's guitar work shows major influences from Texans ALBERT COLLINS & STEVIE RAY VAUGHAN."

Blues Review Magazine June '95

The Best of 1993 to 1999

"The TURNIN BLUE disc sometimes reminds me of Al Kooper with Mike Bloomfield"

Reader Magazine Dec 95

"The disc features nine tracks mostly written by Berthod which showcase his considerable chops"

Gazette Telegraph July 94

There was smoke coming out of my CD player after listening to TURNIN' BLUE

Berkeley Blues News Dec 93

"Hard on my Heart" is a compelling acoustic slide blues and the instrumentals that open and close the album are catchy."

Blues Access Fall 98